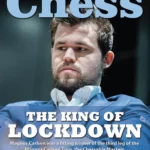 CHESS Magazine
Volume 85, No. 5, August 2020
available at https://chess.co.uk/products/chess-magazine-august-2020
Carl Portman, author of the book Chess Behind Bars, chess organizer, player and coach, Manager of Chess in Prisons for the English Chess Federation.
Chess in Art was a cultural journey. It reminded me of the old adage, 'It's not enough to look, you have to see'. I see it as an investment in any chess player's collection that can be enjoyed time and again.